Chiptuning gives the VW more power
Better Performance in the Polo GTI
The VW Polo GTI unleashes even greater performance potential with the PowerControl X add-on module. With 249 hp and over 401 Nm, the VW Polo GTI is even more athletic and faster on the asphalt.
---
Configure your VW Polo GTI tuning now:
Fabricant
-----------------------------
Modèle
-----------------------------
Moteur
-----------------------------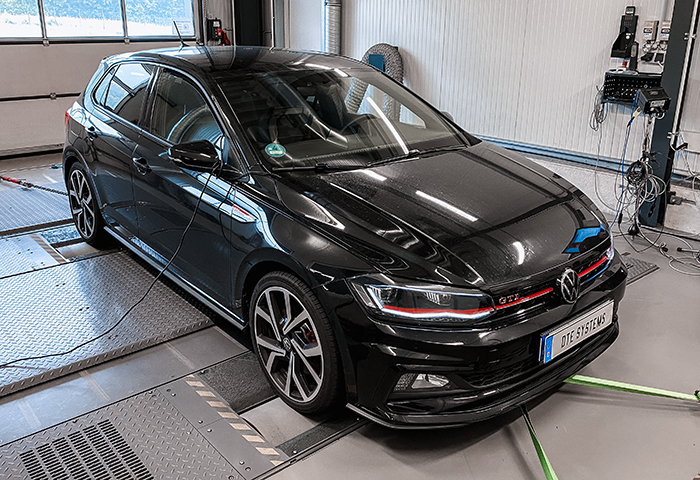 VW Polo GTI 2.0 TSI with 207 HP
In addition to the classic Golf, the VW range also includes a special small car, the VW Polo. The new VW Polo GTI in particular enjoys popularity among GTI fans. With 207 hp and 320 Nm of standard power and the 2.0 TSI DNND engine code, which can also be found in the Audi A1 Sportback 40 TFSI, the Polo speeds away. At the same time, its top speed is 240 km/h and it gets an acceleration of 6.5 seconds from 0 to 100 km/h, with a consumption of 5.6 liters. To coax even more power out of the Polo GTI and still keep it more economical, the DTE developers have developed the PowerControl X chip tuning for the 2.0 TSI engine.
Chip tuning PowerControl X in the VW Polo GTI
Chiptuning PowerControl X makes the most of the VW Polo GTI power to give the small car even more strength. Thanks to the in-house developed and produced performance chip, a healthy and strong additional power of +42 hp and +81 Nm can be achieved in the GTI, bringing it to 249 hp and 401 Nm. The plug-in module optimizes all relevant parameters for the air-fuel mixture in the VW Polo GTI and thus ensures more effective combustion. On the one hand, this increases performance, and on the other, it reduces fuel consumption in the compact car. In the Efficienty mode of PowerControl, the Polo can thus save up to 15% fuel. In addition to increased performance and lower fuel consumption, PowerControl X comes with a 5-year product warranty.
---
DTE at a glance
Technology leader since 1996
Developed and manufactured in Germany
Ready for shipment in 24 hours
Personal consultation
Safety & Warranty